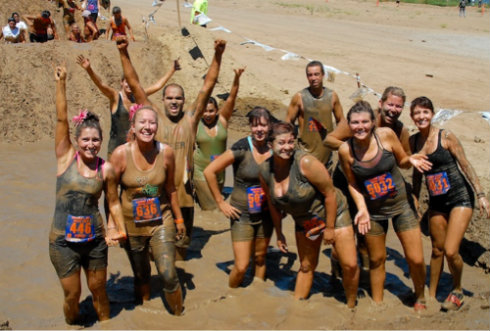 From the same people who bring us the Irvine Lake Mud Run and That Dam Mud Run comes Orange County's liveliest mud run, "Spring Break at the Lake" on Saturday, March 29, traversing the scenic trails of Oak Canyon Park. Participants in the the 5k + mud run will cover on and off roads, hills, water, and professionally built obstacles. More than a dozen mud pits will dare runners to jump in and join the fun.
Gates open at 6:30 a.m., with "waves" of runners ages thirteen and above participating in subsequent events. The first wave welcomes non-timed teams and individuals at 8 a.m., followed by a wave of timed individuals at 9 a.m., timed teams at 10 a.m., non-timed individuals at 11 a.m., and the final wave of non-timed teams at 12 p.m. Teams of runners are encouraged to wear wild, matching costumes to add to the excitement of the Mud Run. For the little ones, there will be a "Mud Puddles" kid's race, starrting at 1 p.m. for children between the ages of two and twelve.
You can pre-register for the event, http://irvinelakemudrun.com/ as openings can sell out. For those who preregister, the "Spring Break at the Lake" registration packets are available for pick-up before the event at select locations. Preregistration entry fee packets include a "Spring Break at the Lake" t-shirt, custom designed finishers medal, access to changing tents, more than 30 showers, medical support, and admission to the concert and beer garden festival areas.
It's recommended to bring an alternate change of clothing. Food vendors will be onsite, along with the beer garden for attendees 21 and over.
The Mud Run raises awareness for Lever's Congenital Amaurosis (LCA). "Gavin's Groupies" will run in orange t-shirts in support of Gavin and to raise awareness for the rare disease.
---
The Latest from greer's oc
Pure Barre NB Turns 5
Pure Barre Newport Beach is celebrating its 5th anniversary today with free classes all day long to celebrate (10 different class times), treats and drinks, as well as a special on all packages.
You can purchase a buy one…
Celebrate Good Taste Restaurant Specials
In honor of Celebrate Good Taste in Laguna Beach, the following restaurants will be offering specials all three days from Friday to Sunday.
230 Forest Avenue Restaurant & Bar
In honor of Celebrate Good Taste, 230 Forest Avenue Restaurant &…
Jewelry With a Purpose
In honor of International Women's Day, Senhoa will launch its latest jewelry line, the Solidarity Collection, at Jo Malone London Boutique at South Coast Plaza on Saturday from 3 to 6 pm. Guests will get a first look…
40 Day Sacrifice
Whether you're one of the 1.2 million Catholics living in Orange County who observes Lent (March 5 to April 17), or a non-Catholic who is giving up something you love as a personal challenge, during the next 40 days, many…