New Gear
NISSAN CUVS AND SUVS ROCK!
07.10.12
Did you know Nissan makes luxurious, yet affordable crossover utility (CUVs) and sport utility vehicles (SUVs) that are perfect family-friendly cars and trucks for the OC lifestyle? We recently road tested three Nissan vehicles – the 2012 Nissan Murano, the 2012 Nissan Armada and the 2012 Nissan Rogue – on weeklong drives through coastal Orange County to discover the pros and cons of the Nissan experience.
The 2012 Nissan Murano may be one of the most functional family vehicles on the market today. Why? Because this five-seat CUV brings everything together: style, performance, comfort, safety and decent gas mileage. Need luxury? We tested the new 2012 Nissan Murano Platinum edition, which features gorgeous 20-inch aluminum wheels, Nissan's super cool auto infotainment system and a gleaming sapphire black exterior paint color. Need performance? All 2012 Murano CUVs come equipped standard with an aggressive and fun-to-drive 3.5-liter 260 hp V6 engine (with an electronic all-wheel-drive system and stability control). Outside, the 2012 Murano has a rather contemporary feel for a CUV with its chrome grille, widely-spaced head lamps, powerful wheel arches and rear roof spoiler. Inside, the 2012 Murano is a luxe cocoon filled with gadgets that make driving wonderful from a 7-inch infotainment screen to power lift gates to wood accents to the 60/40 flat-fold seats to standard XM satellite radio. From the beach to school to cruising into the valet station at one of OC's oceanfront hotels, the 2012 Nissan Murano gets you there in comfort and style!
Need a full-sized SUV for driving around a big family or perhaps for road trips to your mountain cabin? Think Armada (and its 9,000-lb. hauling capacity!). Like the 2012 Murano, the 2012 Nissan Armada is an all-around functional vehicle for those seeking a luxurious truck that can also be considered the work-a-day family car. We felt very lucky to have road tested the 2012 Nissan Armada Platinum edition, which comes fully loaded with such niceties as heated front and second row seats, power moon roof, heated steering wheel, navigation system with XM NavTraffic and DVD family entertainment system (for quiet while driving!). All 2012 Armada models come equipped with a kick ass 5.6-liter 317 hp V8 engine and a five-speed automatic transmission. The exterior may seem bulky, but the design also feels progressive and modern. The interior is extremely large with every comfort imaginable from loads of legroom in all three rows to front bucket seats with lumbar support to a highly-functional front console with specialized storage areas for pens, tissues, CDs, smartphones, beverages and even a 12-volt power outlet. Armada definitely delivers the ultimate SUV experience for families who need a truck to haul a crowd (or heavy equipment).
Nissan's Rogue is a compact CUV for families who don't mind sacrificing luxury for a low sticker price. Luckily, the 2012 Rogue has some of the same sleek exterior styling as the Murano. Inside, the 2012 Nissan Rogue looks like a ruggedly simple vehicle set to take you just about anywhere. For 2012, the "special edition" comes with steering wheel audio controls, rear view monitor, a 4.3-inch audio display, USB connectivity, satellite radio, fog lights and privacy glass. What about performance? The 2012 Rogue comes standard with a 2.5-liter 170 hp inline four-cylinder engine. And while the acceleration on the 2012 Rogue doesn't excite so much, the gas mileage does at 28 mpg hwy and 22 mpg city. Plus, the 2012 Nissan Rogue can also be outfitted in all the luxury and comfort amenities of Murano and Armada, including Bluetooth connectivity, XM satellite radio, navigation system, rear view monitor, Xenon head lamps and Bose audio system.
Still considering Nissan for your next CUV or SUV purchase? Go check out all the 2012 models at your nearby Nissan dealer and take a test drive for yourself. You won't be disappointed.
---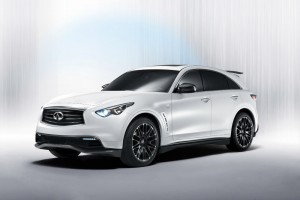 2012 INFINITI FX50 ROCKS!
04.03.12
Review by Sheryll Alexander
We weren't surprised one bit when Costa Mesa-based NADAguides.com announced today that the 2012 Infiniti FX50 is their "featured vehicle of the month" for April. On a recent weeklong road test of a sparkling gunmetal gray 2012 Infiniti FX50s, we agreed with NADA that this cool-looking CUV (or is it an SUV?!) brings tons of comfort, hot technology, good design and competitive performance to the luxury CUV/SUV market.
NADAguides.com, which claims to be "the leading online provider of vehicle pricing and information," says it based this award not only on the above features, but also on "numbers and pricing (base MSRP $59,800) … distinctive styling with exciting performance, utility, and versatility."
Again, we agree. We drove our fully-loaded 2012 Infiniti FX50S (base MSRP $64,050)) all over coastal Orange County on trips to hip drinking spots (such as OC Wine Mart), to hot new restaurants (like South Coast Plaza's new and yummy ZCafe) and to our fave South Laguna haunts on scenic drives down Pacific Coast Highway. Our FX50S impressed us each and every time we sat inside its uber comfortable interior with wraps-you-perfectly heated leather seats.
But before we get into why we love the interior, let's chat about the outside. "It looks like a duck bill," says our smallest reviewer, who has a good eye for design detail. She's so right. The bulbous hood and oval chrome grille of the 2012 Infiniti FX50 gives it a distinctive look. We also love the chromed out side air vents, the curvy fenders, the 21-inch designer wheels and the bootylicious hatch.
The FX50's roomy interior feels sporty, sumptuous and even sexy. We enjoyed how the driver's cockpit for its plush saddle-stitched seats, hot instrument gauges, way cool dash with state-of-the-art infotainment system, surround view parking sensors and 11-speaker Bose audio system, along with many other luxury-minded features.
What about performance? The base model comes equipped with an all-wheel-drive 390 hp 5.0-liter V8 all-wheel-drive (AWD) engine. Although the FX50 is a rather heavy vehicle, this power plant rocks with fast and smooth acceleration through all gears and at all speeds. Infiniti outfitted its FX50 with loads of advanced technical wizardy when it comes to performance including variable valve event and lift valve technology, intelligent brake assist, distance control assist, intelligent cruise control and lane departure warning.
What does this all mean? The 2012 Infiniti FX50 is one of the best-performing and most fun-to-drive crossover utility vehicles (CUV) on the market today.
So, what didn't we love about the FX50? Absolutely nothing when you consider this vehicle is a mid-sized CUV and not a full-sized SUV for hauling lots of cargo or passengers.
Yes, the 2012 Infiniti FX50 (especially the sport model) is a good choice for those who are seeking luxury in a functional, versatile and trendy ride. We can't wait to take this hot CUV on a long family vacation, girlfriend getaway or romantic road trip some time very soon. LOVE FX50!
Sheryll Alexander runs a news media agency based in Costa Mesa, California. She is an automotive journalist and professional road test reviewer as well as a lifestyles writer and the dining, travel and new gear editor for Greer's OC.
---