Interiors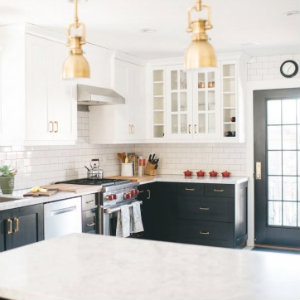 07.07.16
Design by a Chameleon
The kitchen is the heart of the home and the hub for entertaining, which is why making sure it has a nice, open layout and stylish look is something we strive to do in every home we design. Since we've covered how to make your kitchen entertainment friendly, we thought it would be nice to also provide you with some quick, easy and affordable updates to achieve that stylish look and feel.
Lighting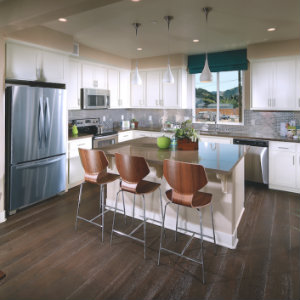 Good lighting is important to the overall ambiance and is a cost-effective and relatively simple way to make an improvement to your kitchen. There are different types of lighting that you should implement to assure you're covering all the bases: task lighting, ambient lighting, accent lighting and decorative lighting. Each serves a different purpose so take the time to look into ways you can all of them and you'll be amazed at the difference it makes.
Cabinetry Painted Darker Hues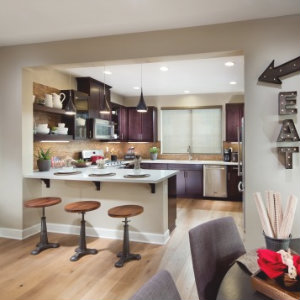 Cabinets painted darker hues are on-trend at the moment and we're fans because it can add great contrast to neutral colored walls and backsplashes. It's also a fun way to make a quick change with a big impact to your kitchen by painting your cabinetry a dark color. If going for the trending dark moody colors isn't your thing, painting the cabinetry a light color will also do the trick!
Upgrade the Hardware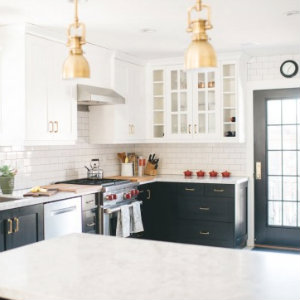 The hardware might seem insignificant, but swapping it out with something fresh and different is one of the easiest ways to give your entire kitchen a makeover. Lately we've been loving gold, brass and copper which pop against dark cabinetry but also look great with white and other neutrals.
Pops of Color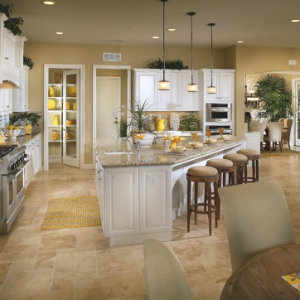 We love an all white kitchen as much as the next person, but adding a little personality with a pop of color can go a long way. Think about accent dishes and other decorative items and make sure you're using these for personality and color. A ceramic fruit bowl in a beautiful blue or green glaze will pop on an all-white counter top. Also, adding fresh flowers or greenery will always give you a bright and cheerful feel.
---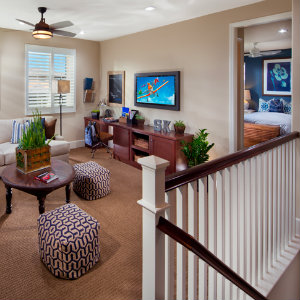 04.01.16
Design By A Chameleon
Commonly overlooked, the staircase has a visual presence that can completely change the look of a room. Its placement in a high traffic and high visibility area of the home allows it to make a statement if done correctly. So rather than see it as just a path from one level to the next, spruce up your staircase with these fun ideas: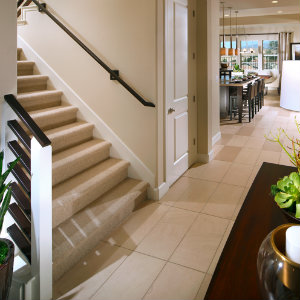 Replace, Paint or Stain Your Balusters or Spindles
Painting spindles or balusters white will add more light to a dark staircase, while staining wood ones can give your staircase a more rustic feel. If you want to go towards modern style, adding modern horizontal spindles to a staircase can change the look completely. Photo by Chameleon Design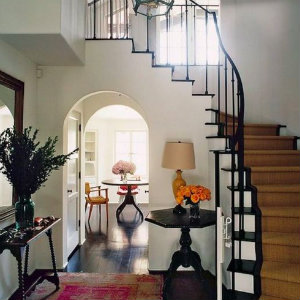 Add a Runner
If you don't have the time to do a full stair makeover, taking away full carpeting and adding a runner, or painting on a faux runner, is a great way to add depth to your staircase. This is also a great way to provide a pop of color! Photo by Vogue Magazine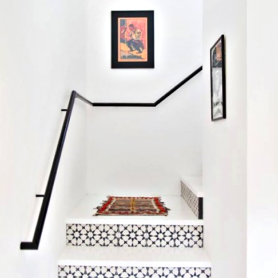 Wallpaper, Paint or Tile the Risers
Adding a pop of color to risers by using wallpaper, paint or tile will give your staircase a unique facelift that is sure to draw attention to it. Photo by Camille Styles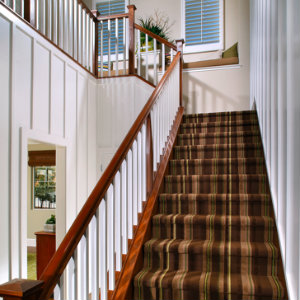 Refinish or Repaint the Handrails
Handrails lose their sheen quickly because they are constantly being used. Making sure they are clean and shiny is an important part of a great looking staircase. If they are cracked or wearing, you can refinish, stain or repaint them in your desired shade. We personally love a contrasting dark wood handrail with white balusters! Photo by Chameleon Design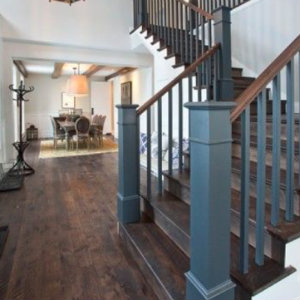 Change the Newel Post
The newel post, or the end post on a staircase, is what shows the design style of the staircase. Making sure that this piece matches the rest of your style, or changing it and repainting can make the staircase look like it was remodeled in its entirety. Photo by Utah Style and Design
---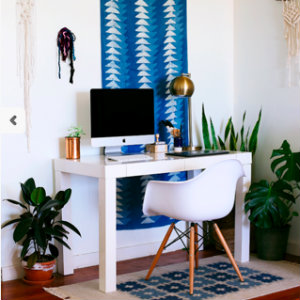 01.26.16
Design by A Chameleon
Whether at work or home, many of us aren't able to have the corner office with the view that we had dreamed of. However, there are definite ways to make your smaller office space look, feel and, most importantly, function better. Here are a few of our favorite tips: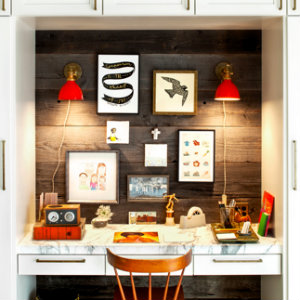 Lighting
One of the most important things when designing or styling an office is lighting. Whether natural or artificial, make sure you have plenty of it.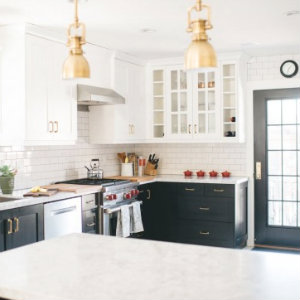 Pops of Color
Painting or using pops of color is great for an office, it makes it seem less stale. Certain colors like blue and green are found to enhance creativity and if you opt for some pattern, make sure it is only in a small area or accessory, as large patterned walls or large pieces can seem busy and make the space feel cramped.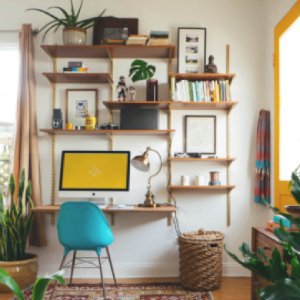 Go Vertical
Maximize your vertical space for shelving, storing, and decorative objects that inspire you. Just make sure you don't have too many things so the space doesn't look cluttered.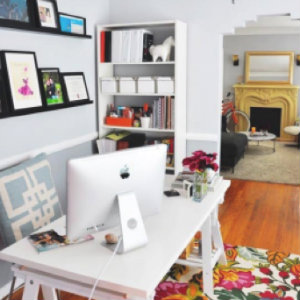 Stay Organized
Organization is key when it comes to making a small space seem bigger. Keeping files, papers, and accessories in their correct places can make the space seem more open. Utilize drawers, file holders, and decorative boxes to make the most of the storage areas.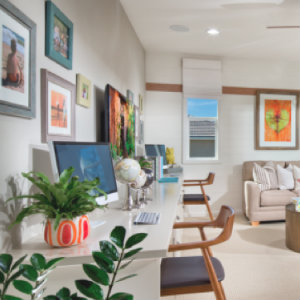 Personalize the Space
Make your office space seem like it is yours by decorating with meaningful and inspirational pictures or pieces that will help stimulate creativity. Greenery is also a great way to add personality to an office space, whether real or fake.
---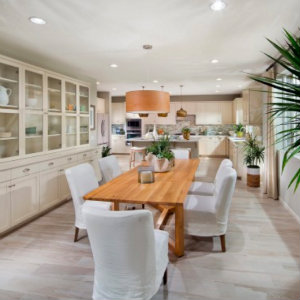 01.21.16
Design by a Chameleon
We love those beautiful white rooms, however it can be tricky decorating with only neutral colors. Here are some simple ways to keep the design of your home interesting and beautiful while using only neutral colors.

Hues
Using varying hues of the same color gives your neutral room personality and depth. Using a broad range of shades from the same palette keeps the look cohesive and ties it all together if used throughout the whole house.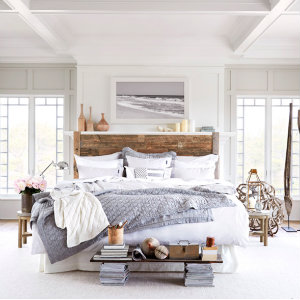 Texture
The more textures that you add, to walls, couches, beds, tables, the more interest you add to the design. Layering textures with pillows and blankets adds a rich element. You can also add textures with ceramics, rugs, and accent pieces.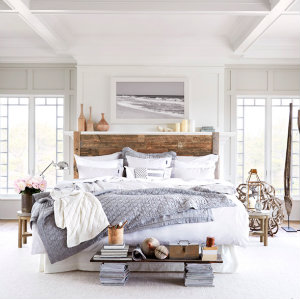 Metals, Woods and Plants
Plants, metal and wood elements serve as a great way to mix up the style while still staying in a neutral zone. Adding live plants to your décor can give a nice pop of color to keep things lively.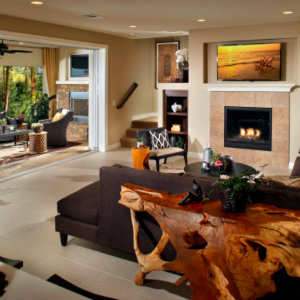 Architecture
Accentuate architecture or find furniture pieces with tasteful lines and architecture. If your house boasts beautiful architectural features, make sure that you highlight them by styling around them to make them stand out.



---
More Interiors