Greer's Blog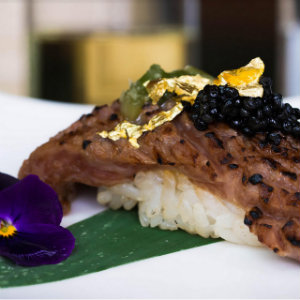 03.20.18
Sushi Roku Newport Beach received a special delivery of award-winning Bungo Wagyu available now through Sunday, March 25 with a tasting menu that pairs three Wagyu appetizers with three distinct Japanese spirits. The limited-time-only tasting menu features Bungo beef, considered the highest-quality Japanese grade beef, originating from the Oita prefecture in the Kyushu region of Japan.
The award-winning meat, which has received accolades from the Tenno-sho (Emperor's Prize) and Japan's Ministry of Agriculture, Forestry, and Fisheries, will be offered in three simple preparations to preserve its rich, delicious flavor—a skewer, sushi, and steak—matched with refined spirits originating from Japan that delicately enhance each dishes' overall profile.

The Bungo Wagyu Beef tasting menu will be offered at Sushi Roku Newport Beach, as well as sister restaurant ROKU Sunset in West Hollywood, and will be priced at $85 (exclusive of tax & gratuity). The menu features the following three appetizer flights and beverage pairings thoughtfully chosen by Sushi Roku GM & Sake Sommelier, Eiji Mori:

Bungo Wagyu Skewer paired with Ginza no Suzume Kohaku Shochu: this light shochu is distilled from barley sourced from the same region of the premium Bungo beef in Japan (Oita) and is aged in re-purposed American white oak bourbon barrels giving the product a golden tint, and oaked, smoky nose and taste.

Bungo Wagyu Sushi paired with Soto Sake: much in alignment with the quality of the Wagyu cut, this is a premium junmai daiginjo sake from Niigata, Japan, and an all-natural, gluten-free sake that has an elegant aroma, with a smooth taste of fresh apple, cucumber, and a hint of lime zest.

Bungo Wagyu Steak paired with Akashi Whisky: this whiskey is named after its hometown, translated as the "Sun Rise City," from Kobe Bay in Hyogo, Japan. This blended whiskey is smooth and light on the pallet with hints of apple, pear, and peat.

Sushi Roku Fashion Island is at 327 Newport Center Drive in Newport Beach (adjacent to Macy's, across from True Food Kitchen).
For more information or to make reservations, visit sushiroku.com.
---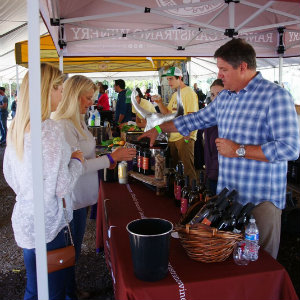 03.20.18
Guests braved the rain and shine at last weekend's OCWineFest, which took place on the historical grounds of A Stones Throw Winery in San Juan Capistrano. Almost 1800 guests sipped more than 200 wines, mingled, danced, nibbled bites and learned about award-winning wines from around the globe over the course of the weekend – tasting wines from as far away as Israel and Hungary, to those made right in our backyard of Orange County.
The six craft breweries on tap were a hit among the crowd, which spanned demographics, showing that the enthusiasm for the wine and beer community is strong in Orange County. Blazing the (Orange County wine) trail to bring vino and people together – from newbies to aficionados – OCWineFest balanced fun, exploration, and education in one place.
The overriding theme of the event, however, was spreading awareness for the Orange County chapter of the Leukemia and Lymphoma Society, an organization near and dear to OCWineFest organizer, Col. Sean Magee, also an LLS survivor.
A second OCWineFest event is in the works, with dates TBA. Stay tuned at ocwinefest.com. LAWineFest will take place June 2 and 3 at The Row in Downtown Los Angeles. More info at lawinefest.com.
---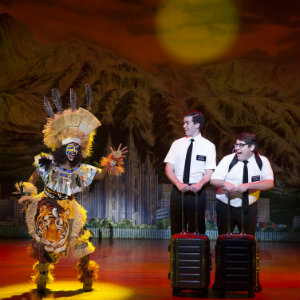 03.19.18
Back by popular demand, nine-time Tony Award winner, The Book of Mormon returns to Segerstrom Center for the Arts for a limited engagement March 20 – April 1. The Book of Mormon follows two Mormon missionaries as they attempt to share their scriptures with the inhabitants of a remote Ugandan village. The earnest young men are challenged by the lack of interest of the locals, who are preoccupied with more pressing troubles such as AIDS, famine, and oppression from the local warlord.
The Book of Mormon features book, music and lyrics by Trey Parker, Robert Lopez and Matt Stone. Tony Award winner Lopez is co-creator of the long-running hit musical comedy, Avenue Q. The musical is choreographed by Tony Award winner Casey Nicholaw (Monty Python's Spamalot, The Drowsy Chaperone) and is directed by Nicholaw and Parker.
The 2 p.m. performance on Saturday, March 24 will include audio description, open captioning and sign-language interpretation.
Tickets start at $34.75 and are on sale now. They can be purchased online at SCFTA.org, at the Box Office at 600 Town Center Drive in Costa Mesa or by calling 714.556.2787.
For inquiries about group ticket savings for 10 or more, please call the Group Services office at 714.755.0236.
---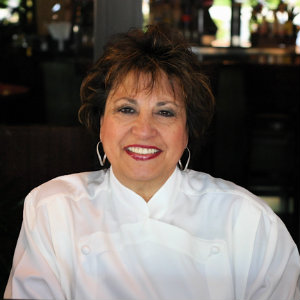 03.19.18
Join legendary chef Zov Karamardian at Zov's Bistro in Tustin for a special cooking class benefiting the Alzheimer's Association on Saturday, March 24 at 11:30 a.m.
Based on the most current research in healthy aging and the Alzheimer's Association's 10 Ways to Love Your Brain program; the Mediterranean diet with a focus on olive oil, vegetables, fruits, nuts, grains, fish and poultry may help reduce the risk of cognitive decline. Zov's "Love Your Brain" Mediterranean menu features Pan-Roasted Salmon with White Beans & Vegetables; Vegetable Tagine; 
Quinoa with Grilled Zucchini, Chick Peas & Cumin; and Barley Salad with Vegetables and Feta Cheese.
Tickets are $75 and 100% of tickets sales will go to Alzheimer's Association. Questions? Call 714.838.8855 x 22. gdurham@alz.org
Zov Karamardian is also the honoree at the inaugural Alzheimer's Association WOMEN #ENDALZ fundraising event, the WOMEN #ENDALZ Luncheon on Friday, April 13 at the beautiful Fashion Island Hotel in Newport Beach. Tickets are available here.
Zov's Bistro 17440 E 17th St. in Tustin.
---
More Greer