Greer's Blog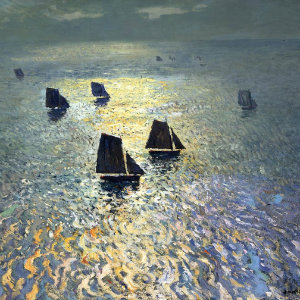 11.09.18
Upon a Painted Ocean is an exhibition at Irvine Museum Collection that celebrates the splendor of California's sun-filled coast that debuts on Saturday, Nov. 10 to through Mar. 30, 2019. It features works by important historical and contemporary painters including Guy Rose one of the most famous California Impressionists.
The exhibition features historical works by Rex Brandt, Frank Cuprien, Granville Redmond, Edgar Payne, Ruth Peabody, Arthur Rider, William Ritschel, Donna Schuster, George Gardner Symons, Elmer Wachtel, and William Wendt.
It also includes works by notable contemporary artists such as John Cosby, Rick Delanty, Dennis Doheny, Andy Evansen, Gregory Hull, Kim Lordier, Jesse Powell, Gayle Garner Roski, Jeff Sewell, and Bryan Mark Taylor.
Admission is free. Ample parking is available at no charge in the structure next to the building. Parking is validated at the front desk.
Open 11 a.m. to 5 p.m. Tuesday to-Saturday. The museum is closed on Sundays, Mondays and major holidays.
The Irvine Museum Collection at the University of California, Irvine is located on the ground floor of the Airport Tower Building at 18881 Von Karman Ave., in Irvine.
---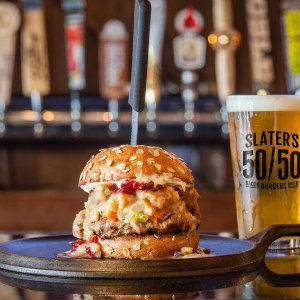 11.09.18
Slater's 50/50 is putting all the flavors of the holidays in your hands with the return of an annual favorite: the Thanksgiving Burger! The seasonal item features a turkey patty piled high with brioche stuffing, turkey gravy, house-made cranberry sauce, and garlic and sage aioli on a honey wheat bun.
The Thanksgiving Burger is available at all Slater's 50/50 locations through Nov. 30, including both Orange County locations in Huntington Beach and Anaheim Hills. Visit slaters5050.com for their complete menu offerings.
---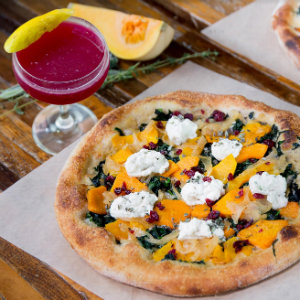 11.08.18
True Food Kitchen at Fashion Island in Newport Beach recently launched its new seasonal fall menu dishes that feature ingredients with natural health benefits based on the principals of Dr. Andrew Weil's anti-inflammatory diet. Many of the items are gluten free, vegetarian and vegan as noted below.

At lunch and dinner you can enjoy a Roasted Brussels Sprouts with Asian mushroom, miso sesame vinaigrette, and toasted sesame seed GF, V. There's the refreshing and tasty Chilled Shrimp Lettuce Cups with coconut shrimp, grapefruit, avocado, cucumber, and jalapeño cilantro GF, VEG. We highly recommend the Seasonal Ingredient Salad with brussels sprout, quinoa, roasted butternut squash, horseradish vinaigrette, goat cheese, fresh pomegranate arils, and toasted mulberry VEG, GF. They've added a delicious Butternut Squash Pizza with caramelized onion, organic kale, vegan almond ricotta, dried cranberry V. And anyone who loved ramen will love the Dashi Ramen with sweet potato glass noodle, bok choy, portobello mushroom, charred onion, radish, corn, black bean, sesame chili oil GF, V. One of the best pies you'll ever taste is the Squash Pie with graham crust, coconut whipped cream GF, V. It also makes a great pie for Thanksgiving and holiday celebrations.
And, they've also rolled out new fall seasonal cocktails. You can choose from Lime & Coconut Colada - lime-infused rum, golden falernum, pineapple, cinnamon; Forbidden Root - lemon-infused vodka, apple, red beet, rosemary; the Pomegranate Margarita - organic reposado tequila, apricot, lime, ginger, jalapeño; the Apple Jack - bourbon, cinnamon, lemon; Original Ginger "O.G." - lime, honey, bubbly water; Pressed Apple Soda; and the Cinnamon Vanilla Latte served hot or with cold brew.
Open 11 a.m. to 9 p.m. Monday through Thursday; 11 a.m. to 11 a.m. Friday; 10 a.m. to 10 p.m. Saturday; 10 a.m. to 9 p.m. Sunday. Brunch is served 10 a.m. to 3 p.m. Saturday and Sunday; Happy Hour from 3 to 6 p.m.
451 Newport Center Drive in Newport Beach. 949.644.2400.
---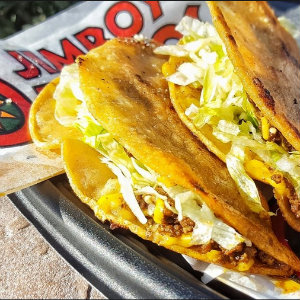 11.08.18
Jimboy's Tacos, home of the Original American Taco, will celebrate the Grand Opening of its fourth Orange County location at 5643 Alton Parkway in Irvine on Tuesday, Nov. 13. The new restaurant will kick off Grand Opening festivities at 12 p.m., which include a free Original Ground Beef Taco with any in-store purchase all day long.
In conjunction with the opening of the new Irvine location, Jimboy's Tacos will host an in-store fundraiser on Giving Tuesday, taking place this year on Tuesday, November 27. 20% of the Irvine location's sales from that day will be donated back to Talk About Curing Autism, a non-profit organization dedicated to educating, empowering, and supporting families affected by autism.
Jimboy's Tacos is most known for its iconic taco made with seasoned ground beef, freshly shredded cheese, and lettuce encased in a crispy, stone-ground corn shell dusted with parmesan cheese. And, its Taquito Burrito, a signature grilled burrito stuffed with three taquitos, grilled burritos, enchiladas, fresh salads, and shareable bites like loaded fries and queso and chips.
5643 Alton Parkway in Irvine.
---
More Greer