Fashion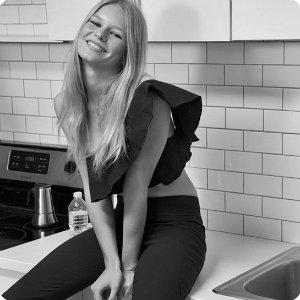 Greer's Top Five Fashion Finds in OC
05.28.17
Orange County is a shopper's paradise. We have it all, from high end couture to discount fashions, and everything in between. The funny thing is that you can have a great wardrobe just by mixing it up and buying what you love, no matter the label. I've worn dresses from Target with Manolo Blahnik's, and it looked great.
After reading Japanese lifestyle/organizing consultant Marie Kondo's advice on how to declutter your home and her mantra: "discard everything that does not spark joy" and watching the Netflix documentary, Minimalism: A Documentary About the Important Things, I'm on a mission to only buy things I love and that bring me joy.
Which brings me to my top five fashion finds in OC. It's hard to narrow it down—there are some many great pieces out there!
In some small way, these items bring me joy.
Michael Nusskern is my go to shop for finding the greatest outfits for special events, or really any day. They carry the most special designs that you aren't going to see everywhere else. For example, this Isabel Marant top and pants from her black label collection. It was featured on her runway, and it's a fun look, very cool and chic. Right now, the Newport Beach location--their second location is on Sunset Boulevard in West Hollywood--is having a 40% off sale.
1630 San Miguel Drive in Newport Beach. 949.759.5500.
8641 Sunset Blvd. in West Hollywood. 310.854.1810.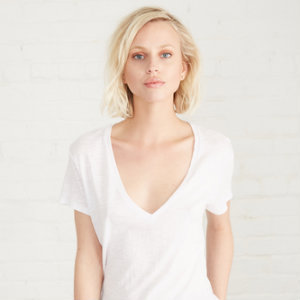 Amour Vert just opened its first SoCal boutique at Lido Marina Village in Newport Beach. And, I'm loving their theme of using low-impact, non-toxic vegetable dyes to developing a zero-waste design philosophy that involves consciously cutting patterns. I picked up one of their tee's and it's now my new favorite shop for t-shirts. Of, course they have much more, but their tees are just what you want to live in. Dreamy soft and super comfortable. The Joline V-Neck Slub Tee comes in 11 colors, made of soft organic cotton blend. $42. Plus, when you buy a tee, they will plant a tree.
3412 Via Lido in Newport Beach. 949.612.7587.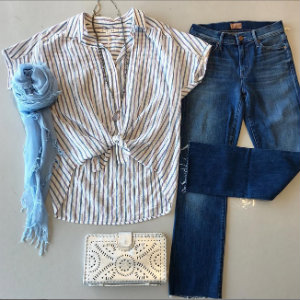 Rococo is just this great boutique in both Costa Mesa and Dana Point owned by Patty Klein Praisler who proudly carries high quality and timeless L.A. based brands. I love her Xirena tops and blouses that are perfect for summer and traveling. I wore them to death last summer and I love this Xirena striped shirt. It has an oversize fit and it's perfect with skinny jeans. You just throw it in the wash, and no need to iron it. 100% cotton.
369 East 17th in Costa Mesa. 949.287.6749.
24040 Camino del Avion in Dana Point. 949.488.0366.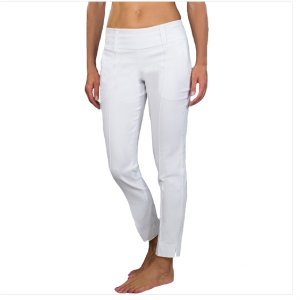 I have a weakness for skinny jeans and tailored black/white pants. They're just the best wardrobe staple. My new favorite pants are from
JoFit.
This new store at Corona del Mar Plaza has some of the best fitting active wear, golf apparel and tennis wear you'll find anywhere. Founder Joanne Cloak put so much thought and research into creating the most comfortable and flattering designs. I'm wearing the
Slimmer Cropped Pant
in white and black all of the time. The pull-on style pant is made of stretch woven fabric—you can dress them up or down. $96. Available in three colors.
932 Avocado Avenue in Newport Beach. 949.662.6066.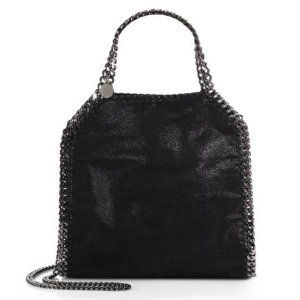 Stella McCartney isn't just a great designer, she's a cool mom of four and I love her support of animal rights. Years ago, she was at an event at Neiman's and she was so nice and down to earth. Of course, all of her designs are vegan and not only that, they're chic and modern. I love her Mini Baby Bella Shoulder Bag that's at Saks Fifth Avenue at South Coast Plaza. It's a smaller version of her classic Falabella, all crafted from shimmering faux suede and finished with Stella's signature chain trim. It's available in seven colors and is priced from $633 to $1,055. Made in Italy and fully lined. For any handbag you own, you can extend the life of your bag and keep it clean by ordering the world's best handbag hanger, Irvine based Clipa online. This genius design comes in six finishes, pairs perfectly with every bag, lasts 10 years, and clips on almost everything. $14.99, free U.S.. shipping.
Saks Fifth Avenue is at South Coast Plaza in Costa Mesa. 714.540.3233
---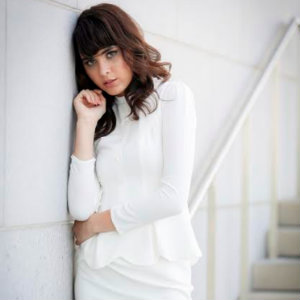 Locally Designed Feminine and Striking Fashions
12.18.15
Fashionistas looking for striking fashions that you won't see elsewhere, rely on Dawn Nguyen, owner and designer at Dawn Sunflower in Corona del Mar. Dawn's designs are always fresh and wearable—and she creates looks just the way she dresses: elegant, classic and feminine.
"My personality reflects my creations. I like to be different and to change constantly," Dawn says. "I love to experiment with new looks and will rarely repeat creations."
You can shop at Dawn Sunflower for a combination of fun and sexy, to classic and feminine looks, or request a custom design. The turnaround time for a custom evening gown is in about three days and normally up to a week—so that Dawn can source fabric and work on the intricate details of the gown. For wedding gowns and bridesmaid dresses, Dawn requires at least two weeks, and up to a month for completion.
Pictured above:
White long sleeves pencil dress, white crystal beaded at cuff sleeve and rounded neck. Pearls buttons front line.
Credit: model: Natalia Fulton
Hair/makeup: Joanna Moses
Photographer: Jun Tolibao
Prices and sizes upon request.
You can follow and find more about Dawn Sunflower on Facebook, Twitter, and Instagram @duong20us.
Dawn Sunflower is at 2610 East Coast Highway in Corona Del Mar.
---